In an era where almost everything is digital, music production has not been left out of technical innovation, with some mind-blowing virtual studio technology on the market,. in recent years plugins such as the popular wavetable synthesizer Serum have taken the world by storm because of their fresh approach to sound design and synthesis in general.
Other plugins that have also achieved a similar level of notoriety such as RC-20 by XLN Audio, Auto-tune, Spectrasonics Omnisphere, Decapitator, Ozone and many others have become staples in almost every producer's arsenal of audio effects and synths, but what are some other plugins out there that may be lesser known?
In this list, I will take you through a collection of plugins that can be used to create a unique sound and VST Instruments that have not completely been given the light they deserve. So that you can be armed and ready with a powerful set of tools for your digital audio workstation.
1. Simple Concept
Simple Interface, Infinite Sounds
Simple Concept is an interactive and easy to use soft-synth powered by Krotos' Concept synth engine, wrapped into a compact interface. With a simple workflow and a user-friendly set of controls, Simple Concept lets you focus on your music.
Dial-in your sound quickly with the expertly pre-tuned controls and perform a range of basses, melodic leads, keys, pads, and FX.
Shape modulation and effects and choose from a diverse range of 80 presets. Use 'Tweak It' to instantly create endless preset variations with just a few clicks.
Simple Concept's Oscilloscope gives you real-time visual feedback based on the master output of the plugin
Effortless, quick, and controllable, Simple Concept allows you to focus on what's most important: your music.
Features
Flexible Macro System
Simple 'Tweak It' Customisation System
80+ presets
Audio Input for modulation (specific presets only)
Oscilloscope visualiser
ADSR Envelope
System Requirements
Mac
Mac Intel computer with a minimum of 2.4 GHz Intel Dual Core Processor
4 GB of RAM
OS X 10.9.5 or later
Graphic card capable of running OpenGL 3.3
VST, VST3, AU, AAX Native formats
64-bit only
Windows
2.4 GHz Intel Dual Core Processor
4 GB of RAM
Windows 10 1909 and newer
Graphic card capable of running OpenGL 3.3
VST, VST3, AAX Native formats
64-bit only
Other Information
This product does not use iLok
This product comes with 2 activations
This software is a digital download
An internet connection is required at the time of activation
Audio Input feature is not supported on FL Studio or Studio One
Available at pluginboutique.com
<a class="rank-math-link" href="https://www.pluginboutique.com/product/1-Instruments/4-Synth/6642-Simple-Concept?utm_source=AFRS&utm_medium=AFRS&a_aid=57b0f9926ef1e&a_bid=76e17947" rel="nofollow">$31.93</a>
2. Equator
The Frontier of Musical Expression
Equator is the world's first software synthesizer built for MIDI Polyphonic Expression. Designed from the ground up by the ROLI team, Equator introduces multidimensionally textured sounds and an array of advanced but easy-to-navigate sound design tools. So you can breathe more expression into any project.
Find the Perfect Sound
Equator includes hundreds of sounds, and more are coming all the time. From warm synth basses to airy pads, spanning acoustic, electronic, and hybrid sounds. Equator also includes multiple oscillators and FM synthesis, so you can make each sound your own.
Explore Endless Modulation Options
Equator offers a clean, easy-to-navigate interface for exploring multidimensional sounds and effects. Its functions are grouped into the Synth Panel and Modulation Panel.
Synth Panel
Play with oscillators, filters, sample playback, noise generation, and other functions. Generate your sound from a wide range of sound sources and synthesis techniques.
Add up to two samples from a large library of high-quality sample instruments, from acoustic instruments like Grand Piano to sampled analogue pads and leads.
Set Equator's three oscillators to multiple waveforms including classic analogue-style waves (pulse, sine, square, triangle, and sawtooth) and complex waveforms.
Achieve complex timbres through frequency modulation (FM) on the three oscillators. Shape sounds further with the noise module and multiple filters.
Modulation Panel
Add modulation to any parameter — quickly, intuitively, and easily.
Adjust in real-time the behaviour of the Five Dimensions of Touch — Strike, Glide, Slide, Press, and Lift — on a ROLI instrument
Adjust movement and time in your sounds through multiple envelopes and low-frequency oscillators (LFOs).
Bring Equator into your Workflow
Equator works as a standalone desktop app, or VST and AU plug-in on Mac and Windows. Optimized for MPE-enabled controllers like the Seaboard and MPE-compatible DAWs like Logic or Bitwig, its sounds and effects work with non-MPE instruments as well. So you can bring Equator into any workflow.
Features
400+ Presets
3 Oscillators with 40+ waveforms
2 sample banks with over 50+ factory sample instruments
1 noise generator with multiple waveforms
1 configurable FM module
6 Custom-built effects
Flexible Routing Matrix
5 multi-mode Filter Modules
2 multi-waveform LFOs
5 multi-mode Envelopes
4 multi-mode and multi-node keytracking sources
4 adjustable curves per dimension of touch
8 Macro Controls
Playlist Manager
Online library of presets and playlists
Deep integration with ROLI Hardware
VST and AU Support, plus standalone application
System Requirements
Mac
macOS 10.13 or later (64-bit only)
Intel Core i5 2.5Ghz+
4GB RAM (recommended: 8GB RAM)
2GB hard drive space
Compatible as a standalone, AU and VST plug-in
An internet connection to register and download additional content
PC
Windows 10 or later (64-bit only)
Intel Core i5 2.5Ghz+
4GB RAM (recommended: 8GB RAM)
2GB hard drive space
Compatible as a standalone and VST plug-in
An internet connection to register and download additional content
You can buy Equator here for $198.21
3. OB-Xa V
Legendary Growl Machine
The OB-Xa V takes the immense analogue power of the fat, aggressive sounding OB-Xa from the 80s charts to the modern era. Faithful to the sound of the original and supercharged with new features, OB-Xa V will take you for a wild sonic ride.
Longing to sound like the biggest icons of the 80s? Jump into the dream world of the future by activating the brand new features of the evolved synth.
Immerse yourself in this quirky synth and whip up new songs with the fat, creamy sounds that made it famous. Not only will you feel the original sound of punchy bass, thick analogue pads and drones, and cyclical effects at your fingertips, you'll also have access to brand new features that will bring out this iconic sound deeper than ever. OB-Xa V is here to let you spin that audio hurricane!
OB-Xa V has been one of Arturia's most requested synths, so they took extra care to make it more satisfying than you'd ever expect. That's right – they went back to the future!

Punchy Synth Icon
Released in December 1980, the OB-Xa made a massive statement in the world of analogue synths. Following the release of accessible digital synthesizers, Oberheim brought in added polyphony, big sound, and impressive power to show the world what synth greatness really means, and it became an instant rival to its main competitor, Sequential Circuits' Prophet 5.
OB-Xa is a hugely iconic synth behind Van Halen's hit 'Jump' and albums by Prince, Queen, Bon Jovi, Billy Idol, Chaka Khan, The Police, and more. Its dangerous, all-embracing sound is perfect for expressing the epic, heart-crushing drama of life. It's used today by the likes of Flume, Chrome Sparks, Calvin Harris, and Venetian Snares, entering a new dimension of electronic music. Arturia's faithful reproduction of OB-Xa with extra inspiration taken from the OB-X and OB-8 for the most satisfying result will be perfect for keyboardists and synth programmers.
It's your turn to break free and let the world hear your rebel yell.

Sonic Alchemy for the 21st Century
OB-Xa was a hugely sought-after synth in its own time. With Arturia's carefully thought out features implemented, Arturia made it even more intelligent, intuitive, and inspiring to use.
Stereo Spread: The pioneering stereo spread feature lets your ears immerse into sound movement.
Arpeggiator: The arpeggiator generates expressive patterns and melodies to enhance your musical rhythms.
LFO: More flexibility of the LFO allows in-depth sound design capabilities and brings movement and excitement to the sound.
Cross Modulation: The oscillators' continuous cross-modulation allows one oscillator to modulate the other one. This leads to frequency modulation, resulting in a nice, metallic sound. It's parallel to the 0 to 1 switch on the original OB-X hardware.
Oscillator's Mix: Oscillators' mix in the filter section lets you take your sound sources and craft them to achieve the end result you desire.
Features
Stereo spread with left/right offsets on oscillator, filter, and LFO parameters
Modulation matrix
Arpeggiator
More flexibility on the LFO for easy modulation
Up to 16 voice polyphony
Innovative voice detuning
On-board effects: delay, chorus, reverb, phaser, flanger, compressor, overdrive, multimode filter, and bitcrusher
Oscillators' continuous X-Mod modulation (cross-modulation)
Oscillators' (1, 2, and noise) mix in filter section for rich sound sources
4 Function Generators
Sleek design for a great visual experience of your sound
Seamless preset selection with the visual browser
Over 400 presets
Individual voice panning
Extension panel includes Mod Matrix, four Function Generators, and 3 busses with 9 effects each
System Requirements
Windows
Win 7+ (64bit) PC: 4 GB RAM; 2.5 GHz CPU.
1GB free hard disk space
OpenGL 2.0 compatible GPU
Mac
10.11+: 4 GB RAM; 2.5 GHz CPU.
1GB free hard disk space
OpenGL 2.0 compatible GPU
Required configuration
Works in Standalone, VST 2.4, VST 3, AAX, Audio Unit
Protection
The software is protected by the Arturia Software Center.
You can download OB-Xa V for $235.62 here.
4. Phosphor 3
Phosphor is a unique instrument plugin modelled on the alphaSyntauri, a vintage digital additive synth from the early 80s. The original alphaSyntauri required an Apple IIe to operate, but Audio Damage have gone ahead and eliminated the middle-man so you can have this classic digital synth in your DAW of choice.
Version 3 once more modernizes the original's tried and tested feature set. Besides plenty under-the-hood improvements, it comes with a new coat of paint, expanded modulation options, MPE support, TUN-file support for non-equal-tempered tunings, and our brand new preset browser.
Oscillate!
Phosphor's topology closely follows the alphaSyntauri, while adding many modern features. It sports two identical voices, each with its own additive synthesis wavetable oscillator, noise source, amp envelope and delay line. Pick between low-resolution mode mirroring the original's sonics and the more pristine high-resolution setting for that top-end goodness. Keep it tame with 16 partials or cross-modulate Phosphor's oscillators and wade into the waters of the Synclavier's FM capabilities!
Phosphor accurately models the original's sounds while providing plenty new paths for sonic exploration.
Modulate!
Phosphor 3 features two LFOs with multiple waveforms, including a random source, which can be operated on a global or per-note basis. Their skew controls greatly expand the scope of available shapes, rendering them a powerful and flexible mod source. Phosphor 3's new modal modulation routing panel makes sound design a breeze: Assigning MIDI/MPE parameters, randomised modulation offsets or the LFOs and dialling in modulation amounts is ever only one click away.
Express!
With its full MPE capabilities, Phosphor 3 teleports the classic that inspired it to the cutting edge of musical expression. Leverage modern controllers to breath life into yesteryear's patches and play them like never before! Are you the quirky type? Make Phosphor lose its temper and explore the world of non-standard tunings with its newly implemented TUN-file support! It's really got something for everyone.
Share!
Phosphor 3 is the first Audio Damage plugin first plugin to feature our brand-new preset manager. Organize your patches in folders and export them as zip-archives, ready for your preset-pack release. Import that fancy new set of patches you bought online directly from the plugin's GUI. Copy presets to your clipboard and quickly share them anywhere, or import a patch from your clipboard into Phosphor. Never has moving presets around been this easy. And the best of all: All this is entirely platform independent so you can use your patches anywhere.
Features
Two Voices: Each voice has a wavetable oscillator with transposition and fine-tuning controls, a noise generator, level ADSR, delay line with filter, and level and pan controls.
Additive Wavetable Oscillators: Each oscillator has 16, 32 or 64 partials with individual level sliders, preset buttons for common waveforms, and partial level randomisation.
Noise Sources: White noise in regular operation or shift-register noise in vintage mode.
ADSR x 2: One level envelope for each voice with control over the duration and curvature of the Attack, Decay, and Release segments.
Vintage Modes: Introduces digital artefacts and distortion. Can be engaged individually for each oscillator and noise source.
LFO x 2: Optionally host tempo-synced Low-Frequency-Oscillators with Sine, Triangle, Rectangle and Random shapes. Skew sliders affect waveforms differently in different modes. Can be used on per-note basis or globally.
Modulation Panel: Quick modulation assignment via modal panel
Dual Delays: One optionally host-tempo synced delay effect for each voice with feedback filter. Each voice's delay can crossfeed into the other.
TUN File Support: Load TUN-files for non-traditional/microtonal tunings.
Cross Modulation: The voices' oscillators can modulate each other's frequencies, akin to the NED Synclavier. Voices can be muted and used only exclusively as modulators, too.
Voice Modes: Poly mode, as well as mono mode without retrigger and retrigger mode. Variable portamento in mono and retrigger mode.
T-Rand modulation: Modulation source generating a bipolar random value every time a note is played.
Software Keyboard: Particularly useful on touch interfaces. Note velocity is determined by Y position.
MPE (MIDI Polyphonic Expression): Full MPE support with variable parameter smoothing for aftertouch.
Factory Presets: Phosphor 3 comes with a collection of factory content, including Designer Presets from Red Means Recording and Ken Flux Pierce.
All-New Preset browser: Quick and easy preset import, export and organisation. Supports import and export of zip archives, preset copy and paste, and arrangement of user presets in folders.
Cross-Platform Preset Format: Fully cross-platform XML-based preset-format. Work between multiple systems without troubles, make a preset on your desktop machine and paste it to the iOS version with Handoff, easily share your creations with your friends, or make a preset bundle to sell.
Fully Resizable Hi-Dpi/Retina GUI: Phosphor 3's vector-based GUI is resolution-agnostic, and displays the same on every system and resolution. Easily resize the UI (per instance) to match your visual needs, from postage stamp to poster-sized.
System Requirements
Windows:
Windows 8.1 or newer and a 64-bit DAW
VST (64-bit) / VST3 (64-bit) / AAX (64-bit)
macOS:
macOS 10.11 El Capitan or newer and a 64-bit DAW
VST (64-bit) / VST3 (64-bit) / AAX (64-bit) / AU (64-bit)
Linux / Ubuntu:
Ubuntu 18 or later
VST (64-bit) / VST3 (64-bit)
You can buy Phosphor 3 here for $62.47.
5. Infinity Synth
Expand your soundscape to infinity. A sample-based synth designed for maximum expressiveness, Infinity Synth ships with a bank of high-quality sounds out of the box. Additional samples and patches can be auditioned and purchased directly from the synth, allowing you to create your own custom, infinitely large sample bank.
Automation
Use automation to create anything from that wobble characteristic of so much dubstep to a voice that comes in and out at random intervals, effects that fade in and out with perfect, quantized precision.
Design
Stagecraft's layout and design principles are built around making the product show you what it does so that every knob or button should produce a visible change as well as a sonic one. Doing this lets you see exactly how the sound is changing.
Sample Marketplace
Audition and purchase additional sample banks form Stagecraft's large (and growing!) library without leaving Infinity Synth.
Features
Sample-based presets with a massive catalogue
ADSR and filter ADSR control
Configurable voice filtering, with LFO, for maximum tone adjustment
Mods and Automation configurable for any parameter
Effects chaining with a wide variety of quality effects
Every preset can be poly or monophonic
Portamento and pitch bend adjustable
Highly customizable UI with adjustable colours and light/dark mode
Compatible with MPE controllers
System Requirements
Mac OS X:
OS X 10.7 or newer (64-bit only)
Formats:
Windows:
­Windows 7 or newer (64-bit only)
Formats:
You can download Infinity for $53.14.
6. 808 Studio 2
808 Studio 2 was designed for cutting edge quality 808 sub-bass. Perfect for hip hop and trap or any genre that requires a hard-hitting bass synth.
With 808 studio 2, Initial Audio went one step further by adding advanced features such as drag and drop modulation for advanced synthesis, and an advanced sequencer which allows overlapping notes to get that classic pitch glide effect used in trap music. 808 Studio 2 could inspire your next beat just by hitting one key.
808 Studio 2 can now also load samples, drag and drop onto the sampler or select from the many Kick and 808 samples included.
Multiple high quality and advanced effects are builtin, such as the 3 band equaliser and Analog modelled Filter, with an epic sounding Chorus which can be applied only to the high end, so the subpart stays clean.
808 Studio 2 comes with 80 presets to get you started. Modifying any sound to your liking is super easy and will sound good with little effort.
From clean sub-bass to down and dirty basses, 808 studio is the perfect bass synth for the task.
Features
808 Bass Synth: Make 808 style bass and sub-bass.
Sampler: Drag and drop your own samples onto the sampler or select from the included samples.
Sub Osc: Perfect for adding extra low-end sub-bass. Includes fat mode and overdrive.
Oscillators: Two extra oscillators with their own dedicated lowpass filter.
Sequencer: 808 studio has its own built-in sequencer and comes with many sequences to get you started.
Drag and drop modulation: Delve deeper into sound design by assigning Mod Envelopes or LFOs to almost any control.
Effect Rack: 5 effects are available. The effects can be moved up or down in the rack. The Effects are Overdrive/Distortion, Compressor, 3 band equaliser, Chorus, and Filter containing both highpass and lowpass.
Sidechain: The side chain uses the Sample as its source and 'ducks' the volume of the rest of the oscillators and sub. This is useful if you have a Kick sample and you want the transient part to cut through so it hits harder.
Preset Browser: Choose different banks, create your own banks and presets to share with others.
Fully resizable HD interface: Drag the bottom right corner to make 808 bass synth the perfect size for your screen.
System Requirements
PC
Windows 7 or higher (64-bit only)
4GB Ram
VST compatible DAW
Mac
OSX 10.6 or later (64-bit only)
4GB Ram
VST or AU compatible DAW
You can buy 808 Studio 2 here for $62.47.
7. SubLab
A new class of synthesizer designed for hip-hop, future bass and trap genres. Create powerful 808 style sub-bass that sounds punchy on every speaker, every time.
Get all the tools you need to sample, layer, widen and distort any kick into a uniquely powerful sub in one plug-in. SubLab's innovative yet simple mix workflow includes X-Sub™, our psychoacoustic sub-bass oscillator. This newly invented oscillator works as a sub-bass maximizer to achieve consistent, accurate and deep subs on any speaker system.
SubLab comes packed with 6 signature Bass Packs and 250 kick samples meticulously recorded from classic analog drum machines and modern modular systems. You can also drag and drop your own samples into the sampler and SubLab will automatically detect the pitch of your sample for a faster workflow. Build your own sample library and Bass Packs as you go.
808 Bass and Beyond
Everything you need to create powerful and punchy sub-bass in minutes. Sample, layer, widen, and distort any kick into impactful subs. Simple mix workflow for superior sound on every sound system.
Introducing X-Sub™ Technology
Our new psychoacoustic sub-bass oscillator. Get consistent, accurate, and deep subs while playing any bass note. Newly invented and only available in SubLab.
Packed with Sounds
250 samples from high-end modular and classic analog drum machines. Comes with 6 signature Bass Packs. Drag and drop your own samples into the sampler.
What You Get
SubLab comes with hundreds of exclusive samples, 6 signature Bass Packs and much more.
Included 808 Bass Packs:
Compressed, maximized, track-ready 808s. Ready to use in your music today.
Richie Souf Signature – 808 sounds produced by Atlanta's Richie Souf. He works with Future, Young Thug, Gunna and more.
Hits DNA Vol.1 – the top 808 sounds of the moment, rebuilt from scratch in SubLab. Includes 808s from ScHoolboy Q, 21 Savage, Post Malone, and more.
Divine Bass – smooth 808s and deep, dark subs made by YouTube trap production educator, Sean Divine.
Crushed – the heaviest distorted 808 basses.
Analog Machines – warm analog sounds recreated in SubLab, just like they came straight out of the classic analog machines.
Pure Subs – the purest of subs to layer in when your track already has a kick drum.
Bonus Samples:
SubLab also comes bundled with a bonus sample pack of 250 meticulously recorded kick drums, kick transients and 808s, sampled from all the analog drum machines we could get our hands on…
Roland TR-808
Roland TR-707
Waldorf Blofeld
Jomox MBase 11
MFB 522
Nord Lead
Noise Engineering Basimilus Iteritas
Befaco Kickall
Intellijel Dixie
Hexinverter BD9
Mutable Instruments Plaits
Dave Smith Tempest
Korg Volca Beats
Korg Volca Kick
Vermona Mono Lancet '15
And more…
Full Features List
Synth Engine:
Analog style synth engine with sine, triangle, sawtooth and square wave options
Sample Engine:
Access the factory library of 250 kicks and 808s, or drag and drop your own
Delayed sample start for creating delayed 808s
Internal maximizer for expanding and distorting
Loop mode so any sample can be sustained
Lo-cut and hi-cut filtering for sculpting
X-Sub™ Engine:
The newly developed psychoacoustic sub-bass oscillator
Always keeps your notes in the sub-range
Control the exact harmonics to create the perfect sub-bass
Distortion:
Darkdrive distortion with Fatness control
Overdrive distortion with Tone control
Grunge distortion with Fizz control
Tube distortion with Heat control
Visualizer to display how the distortion is working
Lo-cut and hi-cut filters for post-filter distortion
Mix amount controls for parallel distortion
Compressor:
Auto sidechain button so the kick punches through
Mix amount controls for parallel compression
Filter:
Analog modelled processing
Low pass, bandpass and high pass shapes
Mix amount controls for parallel filtering
Meter / Master:
Frequency and note cursor display
Synth, Sample and X-Sub engine frequencies overlaid
Divided into 3 most important frequency bands
Master maximizer for expanding and fattening
True peak value meter for clipping control
Patch Browsing:
All patch packs have icons for easy search
Favourites category so you can always find your favourite patches
Create your own patch packs and build your own library
Other:
Fully resizable interface
Editable glide curves
BPM synced glide times
System Requirements
Available as VST2, VST3, AU, AAX
Tested in FL Studio, Ableton Live, Logic, Studio One, Pro Tools and Cubase
Compatible with Mac OS 10.10 and higher
Compatible with Windows 7 and higher
You can buy SubLab here for $39.84.
8. Monoment Bass
Modern Bass. Mix-ready Bass. Monoment Bass.
In the modern day, music production leans more heavily on bass than ever before. Although track counts can number a hundred or more, often the core of a song is built around little more than a beat, a vocal, and a rich, living bass sound.
So an instrument dedicated to just that – tailored to producing huge, solid bass tones with complex, organic overtones and focused effects for a mix-ready low end – is more than just useful. It's foundational. Monoment Bass lays the groundwork for top-quality tracks every time.
Stereo Soundscapes
All of the source material in Monoment Bass was recorded in stereo from high-end rare and boutique synths, giving huge, wide, and mood-defining sounds.
Task-specific Effects
Including a purpose-built multi-band compressor, and a spatialization tool for fine-tuning your stereo image, Monoment Bass has great-sounding effects, but more importantly, the right effects for the job.
Professional Presets
Amazing out-of-the-box sounds designed by Madison Mars, Vandalism, Sample Tools by Cr2, WA production, Black Octopus, and Function Loops, for finely tuned futureproof sounds from moment one.
Modern Music, Modern Instrument
Working with sound designer and rare-synth-collector Tobias Menguser, we set out on this project to tackle the vital problem of amazing-sounding, weighty bass parts in modern music. In so many modern styles, from pop and hip hop to club dance genres and electro music, the bass occupies more and more of the spectrum and does more and more of the heavy lifting in production terms. So we've provided a carefully selected and expertly curated collection of top-end sounds, paired them with easy-to-use and awesome-sounding synth architecture, and high quality analog effects for modern, mix-ready bass in seconds.
Get Complex Quickly
Monoment Bass includes a two-layer source section, with all-stereo sources offering rich and evolving sounds. Nothing is static, and all the sources were recorded in triplicate, so there are three different samples per key for additional naturalism and life. The resulting sounds leap out of the speakers and grab hold of your track. Right out of the box and with minimal tweaking, this instrument has authority, weight, heft, power, character. The filter, LFO, and amp are all geared to musicians – you don't need a degree in synth-geekery to use Monoment Bass – and the effects are designed step-by-step for just this crucial task.
Noise, Dirt, Magic
Using the aging knob, you can introduce a host of analog-ish imperfections to your bass sound. And a third noise source is available at all times, with multiple organic noise options, to add crunch to the attack or grit to the body of your sound. Add analog distortion, ambience, and tone-shaping in the effects section, and you'll be surprised by the range of colorful living sounds your track can hold. Monoment, by virtue of its high input quality and carefully selected sculpting options, becomes more than a part of your mix. It's the very core and heart of your mix.
In short
Super-high-quality bass synth with stereo source sounds from top-end boutique hardware
Top-notch synth architecture that's both versatile and easy to use
Blend noise with two different sources at once for a textured and highly complex sound
Professional presets from Madison Mars, Vandalism, Sample Tools by Cr2, WA production, Black Octopus, and Function Loops
A heavy focus on modern bass sounds makes this the perfect addition to the forward-thinking studio
Fills a soundstage with domineering weight and power, yet easy to mix thanks to dedicated effects
System Requirements
Mac OS X 10.12 or newer (older OS versions may work but are not tested (64-bit only).
Windows 64-bit, versions 7, 8, or 10 (64-bit only).
Intel Core 2 Duo, AMD Athlon 64, X2 or newer.
Screen resolution 1280×800 or larger.
Supported sample rates: 44.1, 48, 88.2, 96, 176.4, and 192 kHz, in both mono and stereo.
8 GB RAM or more is recommended, as well as at least 8 GB hard disk space for installation (individual plug-ins take less space, while sample libraries may require additional disk space).
A Softube account is required to register and install the software.
An iLok account is required for authorization of the software.
Internet access for downloading installers and managing licenses.
iLok generation 2 and up, if you intend to use a physical iLok dongle for authorizing your plug-ins (note that an iLok dongle is not a requirement).
In theory, any 64-bit VST, VST3, AU, or AAX (11.0.2 or higher) compatible host application should work.
The most recent maintenance release of the DAW application is recommended.
However, due to plug-in host differences between DAWs – and their own rigorous testing standards – they only officially test their plug-ins and instruments in the most recent versions of Pro Tools, Logic Pro, Cubase, Live, Studio One, Digital Performer, Reaper and Sonar. Softube plugins are not tested in the non-listed systems, but they most likely work as long as the system requirements are met. We cannot guarantee a solution for issues in unsupported systems.
You can download Monment Bass for $117.22 here.
9. Quad
QUAD was the first-ever Rack Extension synthesizer built from the ground up for Reason by the Rob Papen team and is now also available as VST/AU/AAX plugin.
The sonic palette is huge, through the vast modulation possibilities that QUAD has to offer. The sound sculpting tools start in each Oscillator and are the Phase Distortion and WaveShaper. These tools are brought to life by 2 XY-Pads in each Oscillator, which can be moved through an extensive modulation matrix. QUAD's Oscillators are complemented by two top-notch analogue-modelled Filters, which have different routing options, an arpeggiator, and two high-quality effects processors.
Welcome to the new refreshing synthesizer QUAD – not only available in Reason but available to all!
Features
16 voice synthesizer.
GUI size 100%, 150%, and 200%.
Different tunings possible using .tun files.
Responds to MIDI Program change and MIDI Bank Select.
Delivered with over 750 presets.
System Requirements
PC
Windows 7 / Windows 8 / Windows 10
VST (32 & 64bit)
AAX (64bit) for PT 12 or higher
Mac
OS-X 10.9 – 10.15
AU, VST, AAX for PT 12 or higher (64-bit only)
You can download Quad here for $106.37.
10. Concept
Concept is an intuitive and creative soft-synth, that makes the process of creating your own patches fast and inspiring. Concept's flexible synth engine will enable you to create everything from traditional synth sounds to more complex evolving textures and custom sound design elements.
A fresh approach to modulation allows any parameter to be mapped to one of four highly editable multi-mode modulators in the centre of Concept's UI. Choose from a variety of flexible modulation options such as an Env/Pitch Follower, an X/Y Capture pad and the unique 'Tweak It' customisation system.
Concept also comes with an extensive selection of high-quality effects with a total of three simultaneous insert slots. A highlight of the effects suite is a mix ready convolution reverb that allows user IR files to be utilised to create unusual creative effects.
Key Features
Modulation System – Explore a new approach to modulation using drag-and-drop. Instantly identify your mappings with clear colour coding and animated visual feedback.
Tweak It – Get inspired quickly using our controllable and assignable customisation system. Create variations of your patch with a single click, with results ranging from musical to complex.
X/Y Capture – Draw your modulation movements within an X/Y field. Capture patterns for any combination of parameters and sync the results to your project's tempo. Create unique sounds and melodies in an instant.
FX Rack – Combine a range of ten high-quality effects, and drag-and-drop any parameter into the modulation system. An innovative convolution reverb is included allowing the use of custom impulse responses.
Audio Input – Stimulate new ideas by performing and modulating with any input or instrument. Use elements from your mix to create dynamic rhythmical patches, or use the pitch follower to create exciting interactions with existing melodies.
To get you started, Concept comes loaded with 200+ diverse presets, designed by the likes of Mercury award-winning music producer Roni Size (Reprazent, Universal), Richard Devine (Google, Warp Records), Kayla Painter (Brownswood Recordings), Dom Ruckspin (Ninja Tune) and Hieroglyphic Being (Mathematics Records).
New in Version 1.0.2
Dark Mode – Help reduce screen glare on those long production sessions.
55 New Presets
System Requirements
Mac
OS X 10.9 or later (64-bit only)
Mac Intel computer with a minimum of 2.4 GHz Intel Dual Core Processor
4 GB of RAM
Formats:
Windows
Windows 7 and above (64-bit only)
2.4 GHz Intel Dual Core Processor
4 GB of RAM
Formats:
Supported Host Applications
Ableton Live 10 and above
FL Studio (Windows only)
Pro Tools (11 or later)
Nuendo 8.2.10 or above
Logic Pro X
Studio One
Cubase 10
Reaper
Reason
Notes
Audio Input is not supported in Studio One and FL Studio.
An internet connection is required at the time of activation.
You can buy Concept here for $158.04.
Best Drum Machines
11. DrumComputer
DrumComputer is the new specialist for synthetic drums, combining classic and modern synthesis with flexible modulations and luxurious sequencing. Intelligent randomizers, elegant pattern editing and import of your own samples are just a few of the mind-blowing possibilities. Enjoy new drums every day and get inspired by all the creativity that DrumComputer sets free. Just because, there still is all the unheard of.
Key Features
8 Sound Engines, each one layering a Resonator, Wavetable and Resynth
Filter, Compressor, Overdrive and 2 kinds of Send Reverbs: Room and Hall
2x Env/LFO, plus Synth-Engine-Modulators, Sequencer-Modulators, ModMatrix
Intelligent Randomizers for endless Drum Sounds
16 Step Sequencer and Pattern Generator, Probability, Rolls, +/- Step Delay, Swing, Humanize
Auto- und Manual Remixing/Fills
Easy Keyboard Mapping for Patterns, Mutes and Engine Triggers
Key zones for Rolls, Pitch and Modulation
MIDI File Drag & Drop
Multiple Audio/MIDI Outputs
Sound Engines
8 individual sound engines contain all the DSP goodies and share presets, so you can exchange sounds between engines. 3 synthesis layers cover a broad variety of timbres, from a classical analog Resonator to Wavetable, plus the awesome Resynth, which brings you liquidized cymbals, snares and synths.
Multimode filter, Compressor, Distortion and 2 kinds of Send Reverbs provide a vast toolset to carve the drums of tomorrow. Enjoy the 2 included ENV/LFO hybrids with lots of waveforms and the flexible modulation matrix with sources and targets all over the instrument.
Easy Access
The Kit Page provides the most important functions of the sound engine. Each of the eight kit channels provides a preset browser for the individual sound, controls for global pitch and decay, a modify knob and a profiled random function. Define a Mute group in order to make a trigger on one engine choke the sound on another engine and use Choke Groups for open/closed hi-hat choking, but also for interesting synth sounds.
The Finalizer is a well-balanced recipe of transient shaper, compressor, maximizer and saturation. Use it to bring out the Attacks of your drums and let the room breath.
Millions of Drum Sounds
Drum sound randomizers with profiles and the MakeKit button will keep on surprising you with new drum sounds and kits. Simple patterns turn into livid tracks with the Auto Fill feature, which inserts fills and parameter changes at certain song positions. The revolutionary Remix control creates crazy fills and covers lots of groove and fun.
The Pattern, Mute & Mapping section offers you extensive live-performance-oriented control over DrumComputer. Enjoy total freedom when it comes to assigning drum sounds to your keyboard and use Key zones for rolls, pitch, and modulations. 8 keys are reserved for the mute function, perfect for live-re-arranging of your beats. 16 pattern keys plus pattern chain allow for easy pattern editing and sequencing.
Sequencer
The 16-step/16-pattern sequencer is packed with features. While it provides Tempo, Direction and Step Length per track, it's also capable of generating complete, complex patterns with more than just triggers, you have to try it to believe it.
Modulation sequencers for probability, rolls, step delay and also pitch- decay- and mod sequencers are included. And the best part: A complete MIDI drag and drop feature generates a MIDI file that contains everything from triggers, modulation sequences to auto fills and their related CCs.
System Requirements
Mac
OS X 10.9 or higher (64-bit only)
Formats:
AAX
Audio Unit (AU)
Standalone Application
VST2
Windows
Windows 7 or higher (64-bit only)
Formats:
AAX
Standalone Application
VST2
You can buy DrumComputer here for $132.96.
12. Punch 2
The original Rob Papen Punch virtual drum machine made its mark on the map through a combination of professionally designed drum synthesis/samples and the built-in pattern sequencer. Now, by adding even more drum synthesis models, and introducing a fresh, re-designed new main screen which allows you to quickly form unique new drum kits, Rob Papen Punch 2 continues its legacy to be a cutting edge drum machine… but with lots of extra added punch!

It doesn't stop there though; the interface and the synthesis sound options have been expanded greatly. Rob Papen Punch 2 now allows you to import your own samples and REX files so you can create your own loops using whatever samples you'd like. You can map out REX files or sample slices to individual pads and combine these creatively with the sounds & pattern sequencer found inside Punch 2 for ultimate usability. Further editing of REX files or Sliced pads is also possible by using one of the many additional features such as filters, envelopes or routing into one of the 4 FX modules. And yes, you can even use granular synthesis on the REX and Slice pads!

Feature-wise there is almost too much to mention here! For instance, there is a full new 'Master' section with EQ, Compressor, Limiter, Stereo/mono split filter, and layout mixer. Last but not least, Punch 2 also comes with a vast amount of included sounds, ready to groove into your music and productions!
System Requirements
PC
Windows 7/ Windows 8/ Windows 10 (32 & 64 bit)
Formats:
VST
AAX (Note: PC AAX for PT 12 or higher)
Compatible with NI NKS system
Mac
OS-X 10.9 – 10.15 (64 bit only)
Formats:
AU
VST
AAX
Compatible with NI NKS system
Notes:
Serial/license system with activation whilst registering the product
2nd serial for a secondary computer/laptop is available after you have registered the product's original serial/license.
You can buy Punch 2 here for $158.30.
13. Armory
This drum plugin comes with all the professional control you would expect: ADSR, cue points, independent tempo and pitch-shifting for any sample, effects chaining, and a massive catalogue of drum sounds available.
Display
As with all of Stagecraft's plugins, the displays they add are in-depth and powerful. Their design philosophy is that every knob should have a visible effect, as much as possible Stagecraft show you the effect every parameter has on the signal.
Effects Chaining
Need a kick with massive reverb? want to add a glitch sequence to the ride cymbal? Not a problem, because you can add any of their custom effects to any individual sample. Advanced effects chaining gives you millions of options on any kit.
Massive Catalogue
Armory has 30 Gigs of content, and growing! Browse Stagecraft's massive catalogue and only pay for the samples and presets you want.
System Requirements
Mac OS X:
OS X 10.7 or newer (64-bit only)
Formats:
Windows:
­Windows 7 or newer (64-bit only)
Formats:
You can buy Armory here for $53.14.
14. Boom
Air Music Technology originally created Boom as part of the Creative Collection of instrument plug-ins included as part of Avid™ Pro Tools™. As the popularity of Pro Tools grew, more and more musicians and producers relied on the incredible sonic firepower of this amazing Drum Machine. Boom continued to evolve, and demand grew. Boom is now available on its own by popular demand, available to anyone who demands instant creativity in AU/VST formats.
Boom features a slick modern interface that pays homage to the most popular vintage drum machines of the past. Boom has been used on many famous projects since its launch, ranging from hit albums, feature films and radio projects. It's one of the most loved Pro Tools Plugins.
Boom includes a diverse collection of 10 different classic electronic drum kits, offering variations on the classic 808 and 909 kits, more aggressive Dance and Urban-style kits and a powerful retro-style kit modelled on the concept of a 'CR78 merged with a 606'. Each one has been created with great attention to detail and provides serious sonic impact.
Each kit contains 10 different drums, and you can adjust the panning, volume, tuning and decay of each drum within a kit. Each drum channel also contains a special tuning screw that can be turned to make a sonic adjustment, specific to a particular drum. This tweaking ability provides for nearly limitless possibilities with a user-friendly interface.
You can mix and match drums from different kits to make your own custom kit, and the drum sounds can be triggered individually via standard MIDI pitch mappings.
For instant inspiration, over 50 presets are included cover contemporary, classic electronic/urban musical genres. Boom also has an onboard sequencer that enables you to create and trigger your own patterns, which can be saved and recalled as presets.
You can select different patterns using the keys along the bottom of the interface when you're in Pattern Select mode, and these are conveniently colour coded to show you how they map to a MIDI keyboard from middle 'C' upwards for remote selection.
The Matrix display in the top left enables you to program a pattern, but if you prefer you can also use the keys along the bottom, this time with Pattern Edit mode selected. You'll find some nice touches, such as the ability to copy one pattern to another, and some simple controls for adjusting the way in which the pattern plays back within your host: normal, double, half or triplet time, and there's even a swing control mirroring classic MPC's and other vintage drum machines/samplers.
System Requirements
Mac:
Mac OS X 10.8.5-10.14 (10.15 Catalina not yet supported); Core Duo Processor (Core i5 or i7 Recommended)
VST64 is qualified for Cubase 6 (64-bit) and Ableton Live 9 (64-bit). AU64 is qualified for Logic X (64-bit)
A FREE iLok account & Licence Manager is required to authorise this software (a physical USB iLok is not required).
PC:
Windows 10, 8 or Windows 7 Service Pack 1; Minimum Dual Core 2GHz (Intel Core i5 or i7 Recommended)
VST64 is qualified for Cubase 6 (64-bit) and Ableton Live 9 (64-bit)
A FREE iLok account & Licence Manager is required to authorise this software (a physical USB iLok is not required).
Formats:
Compatible with AU and VST only.
You can buy Boom for $120.99 here.
15. Nerve
Plugin Power
Nerve runs as a VSTi or AudioUnit plugin. Nerve was designed and coded by veteran dance music producers, with a diverse sample library included from many of todays top sound designers. Create your own beats entirely from scratch using sounds you already have (AIF/WAV/REX/RX2/AKAI .SND), or utilize the factory-included Drum Kits, Presets, Patterns, and Sounds.
Powerful Internal Step Sequencer
Nerve has an ergonomic mouse-driven Step Sequencer which allows you to program beats visually or by clicking rhythmically, with minimal mousing.
Compact, Hassle-Free Interface
Everything you frequently want to control is instantly accessible in Nerve – no fumbling and excessive paging around to get things sounding how you want, in a window which won't consume your entire screen real-estate.
Thousands of Original Sounds Included
Nerve contains a large, comprehensive 2-Gigabyte library containing full presets, drumkits, patterns, one-shots, and loops made by a variety of world-class sound designers, including SampleMagic, PowerFX, Richard Devine, Dom Kane, SampleSquad, Bitword, Noise Inc.,, and many others, catering to a wide variety of musical genres.
Sculpt your own Original Sounds
you can drag-and-drop soundfiles you already have on your hard disk (WAV/AIF/REX/RX2/AKAI SND format) and audition different samples instantly using navigation buttons. Random sample selection from the current folder (for one or all pads) is possible with hotkeys, for exploration of new sound combinations effortlessly. On-board editing with 22 simultaneous pre-calculated DSP types allows you to slice/trim, sculpt, stretch, and bend and re-synthesize sounds into completely new sounds, with no play-time CPU expense.
Slice and Re-Arrange Loops
Nerve allows for a single pad to contain up to 16 slices of a loop, with adjustable slice points, which will automatically get read from REX/RX2 files. For traditional WAV/AIF loops, three different user-selectable time-stretching options are available (slice+fill, granular stretch, resample) to get your loop to match your host sequencer.
Let your Rhythms Groove + Gel
Nerve allows you to extract the timing + level information from a REX/RX2 loops, and have this apply to all of the rhythms with a single mouse gesture. You can store swing presets for future use.
Performance-Oriented Features
Nerve features a unique Repeater control which allows you to re-trigger one or more pads on-the-fly to create fills and variations on-the-fly. Trigger / Re-trigger patterns with the mouse or MIDI notes. Re-triggered portions can be automatically 'sent' to a different output pair for additional external processing on those specific moments. Unlike audio-based buffer-repeating effects, Nerve's Repeater will follow swing/groove feel on a global level, maintaining your groove. Furthermore, re-triggered steps will also generate new MIDI-out notes, if using Nerve for controlling external samplers, etc.
Realtime Sculpting Control
Each pad contains a unique 'fat' 2x-oversampled State Variable Filter. Flexible LFOs allowing you to make parts vary over time (pan/level/cutoff/reso/sample start), allowing for parts to sound more fluid. MultiStage Envelopes with tension curves allow for dynamic sculpting with high precision. A unique GATE parameter allows the envelope length to rescale, sequenced per-step and/or controlled/automated externally. * Internal Sidechain-input Compressor – get your beats to pump without all of the in-host bussing hassle.
Pad Independence
Each pad can optionally run its own pattern chain, length, and randomize, making it very easy to create polyrhythms / polymetric beats giving your music productions interesting, unique flair.
Multiple Output Capability
(8 stereo pairs) allow you to separate various parts of the beat for external mixing/processing.
MIDI Support (both Input and Output)
Control Nerve from a MIDI controller using assignable MIDI notes. Control Nerve parameters from MIDI CC messages. MIDI Out control allows you to use Nerve as a "sequence engine" to generate notes/CC's in unique ways / control or layer other synths and samplers.
Available Expansion Pack:
Check out Chris Cowie's Re-Nerve Expansion Pack for more samples, kits and patterns.
System Requirements
Mac
OS X 10.5 or later (for 10.7 or later Nerve 1.01 is required)
Formats:
Windows
Formats:
You can buy Nerve here for $199.47.
Best VST Samplers
16. Regroover Pro
Discover the magic inside your drum loops which you've wanted to extract for years. Create new sounds from old or simply adjust the volume of individual elements inside a loop. Regroover uses Artificial-Intelligence to extract layers from within your previously recorded beats and samples. Once Regroover analyzes the audio file, you are able to make your own drum kits and combine external sounds to make new beats, loops and your own unique Expansion Kits.
Regroover is a new type of beat-making virtual instrument for music producers, beatmakers, and DJs who work with drum loops and samples. Using patented Machine Learning algorithms, Regroover does what no other software or hardware can do.
Also available:
Extract layers from within previously recorded beats and samples and:
Remix and re-arrange audio loops on-the-fly.
Get previously inaccessible sounds from inside your loops.
Create and perform new beats from sounds you discover inside your samples.
Use Regroover to:
Unmix your loops into distinct sound layers.
Get previously unreachable sounds from inside your loops.
Craft the isolated beat elements and form your unique rhythmic signature.
Regroover Pro Only Features:
Grab that magic kick, snare or clap and place it on its own trigger pad.
Or Build your own Expansion Kit with any element inside your loop which makes for rapid-fire MIDI triggering of samples to make new beats and grooves.
Create Regroover Projects with both external and found sounds from inside your loops.
Who's It For?
Regroover is for music producers, beatmakers and DJs who use sampling, drum programming, and beat slicing to remix and compose.
Who should never use Regroover?
Musical snobs who don't like fun sample manipulation tools and new ways to work with samples.
Regroove Your Inspiration
Free yourself from traditional sampling limitations.
Unmix your grooves and reach new sampling frontiers: Grab the live vibe of an isolated hi-hat pattern or extract that punchy snare you always wanted. Regroove your old sound libraries and produce astonishingly-fresh tunes.
Refine your beats and create precisely mixed and texturally varied tempo patterns: Craft the sound of individual sound components and add your favorite effects. Swap kit elements of the original groove with new ones.
Remix your beats to produce outstanding rhythmic foundations: Rearrange the Groove's layers and create brand new tempo patterns. Use Regroover's MIDI functionality to create inspirational beat variations and remix them on the spot.
Explore the A.I. capabilities and extract unique grooves and soundscapes: Play around with the A.I. engine and obtain new, previously unheard sounds. Reveal and capture the underlying micro-rhythms and hidden tempo patterns of each audio clip.
Regroover is available in two different versions with the Pro Edition offering the following…
Split Engine:
Split (unmix) audio loops into distinct layers
Refine split results with custom annotations
Layer Mixer:
Snap to grid for rhythmic remixing and triggering
Remix your layers via MIDI
Adjust volume and pan of separate loop layers
Change layer duration via loop markers
Apply EQ, Gate, Compressor to any layer
Load and play expansion kits
Apply external effects with multichannel output
Export layers as individual audio files
Editors' Tab:
Extract sounds from Layers and drag them to their own trigger pads
Edit extracted sounds via the expansion kit mixer and effects
Save expansion kits and create self-contained Regroover projects
Features:
Sync To Host functionality that allows for instant Regroover integration with new or existing DAW projects
User-Defined Pattern Lengths that offer an intuitive new way to instantly produce new beats from your pre-recorded samples.
System Requirements
Mac OS X:
Versions 10.8.5 or later (64-bit)
AU (32/64-bit), VST (32/64-bit) and AAX (64-bit)
RAM: 2GB (4+ GB recommended)
Monitor: 1280-by-800 resolution or higher
Hard Disk space: 250MB
Windows:
Versions 7 SP1 or later (64-bit)
VST (32/64-bit) and AAX (64-bit)
RAM: 2GB (4+ GB recommended)
Monitor: 1280-by-800 resolution or higher
Hard Disk space: 250MB
You can buy Regroover Pro here for $226.13.
17. Polygon 2.0
Polygon 2.0 is a hybrid sampler plugin designed to facilitate the creation of mind-bending composite sound effects and unusual instrument patches.
Polygon 2.0 features a fully re-designed scalable user interface and we have completely revamped nearly every aspect of the plugin. Polygon's new granular mode will catapult your samples into uncharted realms while its clean and logical interface, extensive modulation options and powerful new dual oscillator make it an invaluable tool for music production and creative sound design. Polygon 2.0 brings sound designers and musicians a powerful new sound sculpting instrument.
Features
4 Granular Samplers
Dual Oscillator with FM
4 Modulation Sequencers
8 LFOs
Modulation Utilities
Dual Insert Effects per Sampler
Global Filter
Dual Global Effects
Comprehensive Randomizer
Variable Polyphony
Specially Curated Factory Sample Bank
100 Factory Presets
System Requirements
Mac
Mac OS X 10.11+
64bit VST3 or Audio Unit DAW
Approx. 1.5 GB of HDD space
Minimum 2 GB RAM
CPU with SSE2 support
Minimum CPU: Core 2 Duo, 2GHz
Broadband for download
PC
Windows 8+
64bit VST3 DAW
Approx. 1.5 GB of HDD space
Minimum 2 GB RAM
CPU with SSE2 support
Minimum CPU: Core 2 Duo, 2GHz
Broadband for download
You can buy Polygon 2.0 here for $79.80.
18. Rhythmiq
Rhythmiq allows you to instantly jam with your beats. Get unlimited beat variations with the turn of a single knob. Generate and save new Rhythmiq patterns and instantly create fills and build-ups. Enable your A.I. Beat Assistant and let Rhythmiq perform your beats in real-time like when you are jamming with a human band-mate.
Features
Instantly jam with your stems
Jam with your beats like never before. Get unlimited beat variations with the turn of a single knob. Generate and save new Rhythmiq patterns and create breaks and build-ups. Enable your A.I. Beat Assistant and let Rhythmiq perform your beats in real-time, like you were jamming with a human band-mate.
Meet your Beat Assistant
Your new "virtual electronic drummer" analyzes your beats and introduces nuanced micro-variations or musical, evolving changes. This will allow to focus on other parts of your music while your beat is organically evolving.
Fine-tune Rhythmiq's A.I. in real-time
Although it uses ground-breaking A.I. technology, Rhythmiq is still controlled by you. Decide how much density, space and variation you need. Experience the new way to perform your beats and find inspiration.
Save and Launch beat variations, always in sync
Generate breaks, fills and build-ups from your beats or layered stems and save them without stopping the music. Stay-in-the flow while you transform your beats into a performance. Use your hardware controller to shape your sequences and manipulate your beats. Use Rhythmiq's arrange, reverse and silence functions to perform your stems live or to jam in the studio.
Rhythmiq v1.0.7 Update Changelog
Improved audio performance during playback when HOST mode is enabled.
Improved real-time syncing when changing DAW playback position.
Improved GUI rendering performance.
AAX Plug-in support for Avid Pro Tools 2019 (Beta).
Fixed Scene launching not working correctly under certain playback conditions.
Fixed Automation parameters not working correctly during host record mode
Fixed Drag & drop not working correctly under certain conditions
System Requirements
Mac OSX:
Versions 10.10 or later (64-bit)
AudioUnit (64 bit) and VST (64-bit only)
RAM: 4GB or more
Monitor: 1280-by-800 resolution or higher
Hard Disk space: 2GB or more
Windows
Versions 7 SP1 or later
VST2 (64-bit) and VST3 (64-bit only)
RAM: 4GB or more
Monitor: 1280-by-800 resolution or higher
Hard Disk space: 2GB or more
Supported Audio File Formats
Rhythmiq supports the following audio file formats:
WAV
AIF/AIFF
FLAC
MP3
And the following sampling rates: 44.1 kHz, 48 kHz, 88.2 kHz, 96 kHz
You can buy Rhythmiq for $159.57 here.
19. CMI V
The CMI V is a spot-on reincarnation of the first commercially available digital sampling system in music history—the sonic powerhouse behind numerous early MTV-era megahits. We even went the extra mile and added new creative features that weren't possible back in the day.
In 1980, the Fairlight CMI turned heads with the introduction of digital sampling. Now their software homage lets you turn some heads yourself.
With the exotic new sound of digital samples, the promise of an all-in-one digital workstation, and a physical design right out of a sci-fi movie, the Fairlight CMI was an object of desire for most self-respecting '80s keyboardists. Countless musicians and producers weighed the risks of bank robbery in order to afford one. No need today. Their faithful recreation gives you the same tools that many MTV stars used to make a cannonball splash into the pool. We've even made lots of improvements and additions that bring added power to this keyboard legend, including an alternate additive synthesis engine and tons of new modulation options. No vintage keyboard collection is complete without the CMI V.
Now it's your turn to experience the sound and power of the digital workstation that started it all.
The unique musical architecture of the CMI
The CMI V isn't just a digital instrument. It's a complete digital workstation.
Their enhanced reproduction of this keyboard superhero lets you work with 10 digital instruments of your choice at once—mixing, layering, splitting and sequencing them as you please. Each instrument can draw from three different means of sound generation. The most obvious is the sampling engine that literally first defined the term in the industry. You can also shape sounds with the original additive synthesis engine where you control each of the component harmonics over time. We've even spun up the propellers and introduced a newer, simpler means of exploring additive synthesis like you've never heard it before named Spectral Synth. You also get around 300 expertly designed presets to get you going—including the original library of sounds you'll recognize from countless hit recordings.
The CMI V has everything you need to explore the intersection of sampling and digital synthesis.
The original digital sound design powerhouse
If you want to sculpt sounds in the digital domain, the CMI V brings you a complete artists toolbox.
There are a zillion ways to shape sounds with the CMI. Work with a sample from the included library, or load in one of your own. Set the start and end points for the sample and loop. Modify the resolution to juice some interesting side effects. Resynthesize the sample into the additive synth domain for a harmonic representation. Create custom envelopes to control how each harmonic behaves over time. Change the sine waves that make up those harmonics to more complex waveshapes. Add multiple custom modulations to just about any sonic parameters you can think of. Heck, turn those modified additive harmonics back into a sample and sculpt your sound more back in that domain.
The CMI V gives you limitless creative options and sonic variety that are completely unique to this legendary sound design workstation.
The sound heard around the world
Many cutting edge '80s songs were fueled by the equally cutting edge sounds of the CMI. Now you can relive the glory days of MTV.
You know the sound of the CMI because it was everywhere—and still is. Consider the ear candy on Kate Bush's "Running Up That Hill". The rhythmic frenzy of Herbie Hancock's "Rockit". Peter Gabriel's exotic "Sledgehammer" shakuhachi. The impossible horn line on Yes' "Owner of a Lonely Heart". The breathy vocal-flute on Tears for Fears' "Shout" and "Everybody Wants to Rule the World". Trevor Horn's pulsing Page R bottom-end collage on "Relax" by Frankie Goes to Hollywood. Speaking of Hollywood, there's Duran Duran's "View to a Kill" Bond theme. How about Jan Hammer's pitch-processed drums on his weekly "Miama Vice" TV scores? And MTV favs like "Close (to the Edit)" by Art of Noise and Yello's "Oh, Yeah" are poster children for all things CMI.
Whether for cover-gig authenticity or just basking in nostalgia, CMI V delivers the fun novelty of songs that still fill the classic rock airwaves.
Main Features
Software synthesizer playable through a MIDI keyboard
600 presets from the original CMI library
360 presets sounds made by Arturia sound designers
Expanded number of track to 10 with a polyphony per track up to 32
Perfect emulation of the analog filter response
Faithful recreation of the sampling and additive synthesis capacities of the instrument
Variable Bit Depth and Sample Rate
Introduction of a new sound generation mode: Spectral synthesis
Classic "page-R" inspired 32-step sequencer
24 sources of modulations per track to apply to all "CONTROL" parameters
High-quality output effects
VST, VST3, AU, AAX, and standalone operation
Preset Browser
The redesigned preset browser lets you quickly find just the sound you're looking for.
Search by name or simply select the appropriate tags to dial in on the exact sonic character you're looking for. You can mark and recall your own favorites, enter comments, and set up playlists. There's never been a more intuitive way to manage your library of designer and personal presets.
Resizable GUI
The user interfaces for all your Arturia instruments are now resizable, making it easy to work with any High Resolution screen, UHD or Retina.
You can decide whether you want to fill the screen with awesome graphic reproductions of classic instrument goodness, scale the window down when you're working in a DAW and screen real estate is at a premium, or even zoom for detailed work.
System Requirements
Platform specifications
Windows
Windows: Win 7+ PC: 4 GB RAM; 2 GHz CPU.
1GB free hard disk space
OpenGL 2.0 compatible GPU
Mac
Apple: 10.10+: 4 GB RAM; 2 GHz CPU.
1GB free hard disk space
OpenGL 2.0 compatible GPU
You can buy CMI V for $235.62 here.
20. Palindrome
The basic concept behind Palindrome is to fuse four granular samplers with a coordinate plotting grid and complex modulation sources in order to facilitate the creation of morphing sound effects and unusual instrument patches.
The plugin's main grid section facilitates the creation of custom paths that determine the trajectory of a playhead over time. This playhead travels across a user-definable path that corresponds with the outputs of the samplers which are smoothly morphed using a bilinear interpolation algorithm. Palindrome also features 8 user-definable multi-breakpoint modulation envelopes to facilitate the creation of intricate modulation shapes.
With its 4 granular samplers, morph-plotting system, 8 multi-breakpoint modulation envelopes, dual effects processors per sampler, shape presets, 4-note polyphony, deep randomization system, global reverb, 1.4GB sample library and numerous factory presets, Palindrome brings sound designers a powerful new sound sculpting tool.
Features
4 Granular Sampler Modules
Morph Plotting System
8 Multi-Breakpoint Envelopes
2 insert FX Per Sampler
Scalable User Interface
Comprehensive Randomizer
70+ Presets & 1.5 GB of Samples
Win/Mac VST/AU 32/64bit
New Features in version 1.2
Scalable User Interface
User Guide Refinements
Minor Bugfixes
New Mac OS Installers
At the heart of Palindrome are 4 granular samplers which feature new algorithms not available in our other sampler plugins. Each sampler includes a variety of sculpting options, all of which are viable modulation targets. In addition to this, each sampler features the ability to integrate up to two insert effects, which are also assignable as modulation targets. The insert effects include three filter types, two distortion types, ring modulation and delay.
In the center of Palindrome's UI lies the plotting grid. The grid is a charting framework where you plot up to 16 points that determine the trajectory of a playhead. The grid coordinates of the playhead will determine which sampler outputs are currently audible. As the playhead travels along the path and over the grid zones, Palindrome will smoothly morph between the corresponding sampler outputs using a bilinear interpolation algorithm.
System Requirements
Broadband for download
VST/AU host: Live, Logic Pro, etc.
Mac OS X 10.8+
Windows 8+
Approx. 1.5 GB of HDD space
Minimum 2 GB RAM
CPU with SSE2 support
Minimum CPU: Core 2 Duo, 2GHz
You can buy Palindrome here for $79.80.
Best EQ VST's
21. smart:EQ 2
smart:EQ 2 enhances detail, clarity and transparency of your mixes after only a few tweaks. Experience a mixing workflow faster than ever before.
Revolutionary learning ability powered by smart:engine
A.I. filter automatically corrects tonal imbalances
NEW: Mid/Side, streamlined interface, instrument profiles
Features
Always a step ahead:
sonible smart:filter technology – Groundbreaking A.I. technology for transparent mixes
smart:EQ 2 analyzes your audio material and generates a custom filter curve to create a natural sounding tonal balance. Add clarity to your mixes, more punch to single tracks or carve out the harsh parts of your vocal recordings – in seconds and with unprecedented precision.
The self-learning smart:engine generates a detailed filter curve tailored to the specific audio material. The intuitive control interface allows to easily adjust thus created smart:filter to your needs. Your track blends seamlessly into your mix or cuts like a hot knife through butter.
NEW: Pro interface update & M/S processing
Refine your audio production workflow with the updated super-intuitive interface design of smart:EQ 2. Reach your mixing goals in less time without sacrificing sound quality. Additional M/S processing options allow you to fully control the sonic space of your tracks. Last but not least, the musical and natural sounding filters of smart:EQ 2 turn it into your new go-to EQ.
smart:EQ 2 now includes the long-awaited pre, post and pre/post analyzer. And that's just scratching the surface of the updated feature set. For more flexibility, we added a tilt filter and the very handy M/S panning and Side balance function.
Custom profiles – Create, save, share
smart:EQ 2 includes new profiles for content-aware audio processing. Choose the profile for the sound source you are working with. The smart:filter will adapt to the characteristics of the signal. Edit, create, save and share your own custom-made profiles. Build your personal library and transfer profiles to your friends and partners. smart:EQ 2 becomes a tool tailored to your personal mixing style.
The human voice poses some of the greatest challenges in recording and mixing. Movie dialogues, interviews and vocals rarely come in pristine audio quality. With the new profiles optimized for the human voice, the smart:filter knows exactly how to tonally optimize any vocal content. This way profiles considerably speed up vocal editing tasks in film or TV post-production.
System Requirements
Mac:
OS X 10.8+
RAM – at least 4 GB (recommended)
CPU – at least intel DualCore i5 (recommended)
Plugin formats – AU, VST2 (Universal Binary), AAX
iLok License Manager is required to install sonible software (activation is optional)
PC:
Windows 7+
RAM – at least 4 GB (recommended)
CPU – at least intel DualCore i5 (recommended)
Plugin formats – VST2 (32/64 bit), VST3, AAX
You can buy smart:EQ 2 here for $152.74.
22. Weiss EQ1
There's a reason Weiss Engineering's EQ1 has been at the top of the heap since its release in 1996. The EQ1's dazzling sonic qualities combined with its flexibility as either a Minimum Phase EQ, a Linear Phase EQ, or a Dynamic EQ have made it the must-have digital mastering equalizer. The Weiss EQ1 plug-in crystallizes that legacy—in software form.
Weiss Engineering's go-to hardware and Softube's workflow and ergonomic advancements combine here to stunning effect. A one-for-one, line-by-line code port of the original, the EQ1 plug-in is the latest and greatest addition to Softube's successful partnership with Weiss Engineering. EQ1 joins DS1-MK3, MM-1, and more out-of-this-world Weiss + Softube products to prove that Swiss and Swedish engineering make a stellar pair.
Doppelgänger
The EQ1 plug-in is a true line-by-line port of the original SHARC assembler code. It's an accurate replica that functions just like the original, but with added features that take it higher.
Colossal Heights
The Weiss EQ1 is the mammoth of equalizers, but Softube felt compelled to go further. Softube and Weiss gave the EQ1 plug-in a higher sample rate, improved ergonomics, and increased functionality.
Picture Perfect
The EQ1 plug-in lets you easily recall Presets (or Snapshots in the hardware counterpart) manually and they'll sound and behave precisely as they do in the hardware.
The Original and Still the Best
The original Weiss EQ1 is the stick by which all digital mastering EQs are measured. EQ1 boasts seven identical parametric bands that cover the entire audio frequency range and have an incredible Q-parameter range of 0.2 to 650. Each EQ band has Boost/Cut, Frequency, and Q/Slope knobs and operate in any of the following modes: High-shelving, Low-shelving, Peaking, High-cut, Low-cut, and Bypass. High auditory quality and functional design made the EQ1 a bestseller in 1996 and solidified its status as the top digital mastering EQ in the field going forward.
A Software Scion
An astonishingly accurate model of the hardware, the Softube + Weiss EQ1 plug-in covers all configurations and functions internally just as the original unit does. The saved Presets (or Snapshots, as they are referred to in the hardware) can easily be manually recalled to the plug-in and will sound and behave identically. The EQ1 plug-in is no pretender; it's the real deal with extra features that make it an invaluable asset.
Raising the Bar
With every new iteration of EQ1, the standard has been set higher. The EQ1 plug-in is not an exception to this rule. Not only can you set the Threshold, but now you can also set Attack, Release, and Ratio in Advanced Dynamic Mode. The hardware allows four bands to function as dynamic bands, while the EQ1 software version kicks it into high gear and lets you activate all seven bands in Dynamic Mode. The additional components of the Weiss EQ1 plug-in have it racing ahead.
Flat-out Fantastic
When porting the code from the original hardware, Softube strove to be exacting, as always. But, true to form, they didn't stop at perfection. Softube added innovative features that make the workflow speedier. The Weiss EQ1 plug-in user interface is a replica of the hardware, but now it adapts depending on the setting of the four distinct user interface configurations. The knob layout changes according to which modes of the unit are activated. In this way, the parameters are available at all times—independent of what mode is chosen—making access to them simpler and faster than ever before.
Softube & Weiss: Meeting of the Minds
Weiss has been a pioneer in digital audio equipment design since 1979. That's when Weiss founder, Daniel Weiss, joined Willi Studer AG in Switzerland as an engineer. In 1985, Weiss struck out on his own and founded Weiss Engineering with a focus on pioneering digital audio equipment for Mastering Studios. The result of that endeavour is now legend.
Softube's relationship with Weiss started in 2008 when they were first introduced to Daniel Weiss. Despite having so many guiding principles in common, it wasn't until 2015 that Softube got serious about working together. Three years—and some blood, sweat, and tears—later, the Softube + Weiss DS1-MK3 plug-in was unveiled to great fanfare. And the tradition continues.
Features
A line-by-line code port of the original Weiss EQ1, the standard-bearer of digital mastering EQs and a must-have for mastering houses worldwide.
A surgical Minimum Phase EQ, a true Linear Phase EQ, and a Dynamic EQ—all in one.
7 full-range bands with -39 to +18 db Cut/Boost range.
Threshold, Attack, Release and Ratio parameters available on individual bands in Dynamic Advanced Mode.
Operates in Minimum Phase, Linear Phase, Dynamic and Dynamic Advanced Modes.
High and Low Cut, High and Low Shelving and Peaking Incredible Q-Range of 0.2 to 650 M/S Processing, Solo/bypass individual bands and Link Channels 4 user interface layouts Up to 192kHz sample rates and, with 64-Bit internal processing.
Workflow and ergonomic advancements with four adaptable user interfaces.
Created in collaboration with—and endorsed by—Weiss Engineering.
System Requirements
Mac OS X 10.12 or newer (older OS versions may work but are not tested (64-bit only).
Windows 64-bit, versions 7, 8 or 10 (64-bit only).
Intel Core 2 Duo, AMD Athlon 64 X2 or newer.
Screen resolution 1280×800 or larger.
Supported sample rates: 44.1, 48, 88.2, 96, 176.4 and 192 kHz, in both mono and stereo.
8 GB RAM or more is recommended, as well as at least 8 GB hard disk space for installation (individual plug-ins take less space, while sample libraries may require additional disk space).
A Softube account is required to register and install the software.
An iLok account is required for authorization of the software.
Internet access for downloading installers and managing licenses.
iLok generation 2 and up, if you intend to use a physical iLok dongle for authorizing your plug-ins (note that an iLok dongle is not a requirement).
In theory, any 64-bit VST, VST3, AU, or AAX (11.0.2 or higher) compatible host application should work.
The most recent maintenance release of the DAW application is recommended.
You can buy Weiss EQ here for $650.04.
23. Crystal EQ
Following up the release of their powerful saturation EQ Fatmaker, Singomakers are back with a brand-new precision equalizer, Crystal EQ. Designed for creating clean and bright mixes & masters, the Crystal EQ is a one-stop EQ for cleaning up your drums, vocals and instruments to get them sitting perfectly in the mix.
Vintage Vibe with Modern Precision
Crystal EQ features four adjustable frequency bands for precise equalization, as well as a high-pass and low-pass filter for additional EQ control. Add low end punch to your drums, top end clarity to your vocals or create complex automated filter FX in just a few quick sweeps.
The vintage interface of Crystal EQ gives that classic feel of a vintage outboard EQ, whilst delivering the precision and control of the digital domain, making it a delicate and precise tool for mixing and mastering.
Versatile & Full of Character
Crystal EQ is designed to instantly deliver clean and transparent EQ to your tracks, featuring simplicity and versatility that makes it the perfect choice for all the common elements in your mix. Crystal EQ is split into the following bands:
High-Pass Filter
Low Frequencies
Low-Mid Frequencies
High-Mid Frequencies
High Frequencies
Low-Pass Filter
Crystal EQ also comes with a collection of both live and electronic instrument presets – choose from the expertly crafted selections to get your bass, piano, synths, guitars & drums sounding crystal clear and full of life.
Features
Clean & transparent EQ processing
Four fully adjustable frequency bands
High-pass and low-pass filter
Full selection of instrument presets
System Requirements
Windows
VST 2 & VST 3
32 and 64 bit
Mac
VST 2, VST 3, AU
32 and 64 bit
You can buy Crystal EQ here for $39.89.
24. Oxford Dynamic EQ HD/HDX
Have you tried to control boomy or harsh frequencies using a traditional static EQ but found you compromised the integrity of the original recording? Then found that writing automation lost you precious time and sounded unnatural? Perhaps you've heard that a multiband compressor is the answer but it left you scratching your head?
Then the Oxford Dynamic EQ is the tool you need, providing just the required amount of processing when you need it and takes little time to set up. 5 bands of the ultra-musical Type-3 EQ curve can be overlapped to bring unparalleled control and characteristic Sonnox transparency to your single sources, instrument groups and 2-bus alike.
The Dynamic EQ introduces unique features such as the option to engage the effect by onset (transient) detection – very useful when working with drums and percussion. Additionally, mid-side processing can be used to enhance a vocal without affecting side-channel balance or to open up a mix by focusing low-end energy in the centre.
This highly-tweakable space-carving capabilities of the Dynamic EQ will be a welcome addition to your mixing arsenal.
Features
5 bands of the Oxford Type-3 EQ curve which offer proportional-Q, often considered the most musical EQ curve-type
All bands can overlap fluidly without the static phase distortion or low frequency artefacts associated with multiband compressors
Each band can process and/or detect from mono, stereo, mid or side channels
Flexible per-band internal/external side chain controls
A clear and informative GUI simplifies the often-complex workflows associated with multiband dynamic plug-ins
Flexible upwards/downwards compression and upwards/downwards expansion
Engage the effect either by setting a level threshold or by using the unique onset detection feature for very precise transient processing
System Requirements
Mac:
macOS 10.7 or later
iLok USB device with latest drivers OR active internet connection required
Formats:
AAX Native and Pro Tools HDX compatible 10.3.8, 11.3.2, 12 – Approved Pro Tools CPU, OS and hardware configuration
Audio Units (AU) – Audio Units-compatible application required (Logic, Digital Performer etc)
VST2 / VST3 – VST2 or VST3 compatible application (Cubase, Nuendo, Sequoia etc)
Supported Hosts:
Pro Tools 10.3.8 and above – AAX DSP(HDX) / AAX Native
Logic Pro X 10.2
Logic 8 & 9
Digital Performer
Nuendo
Cubase
Ableton
Studio 1
PC:
Windows 7 or later
iLok USB device with latest drivers OR active internet connection required
Formats:
AAX Native and HDX for Pro Tools 10.3.8, 11.3.2, 12 – Approved Pro Tools CPU, OS and hardware configuration
VST2 / VST3 – VST2 or VST3 compatible application (Cubase, Nuendo, Sequoia etc)
You can buy Oxford Dynamic EQ for $558.71.
25. FabFilter Pro-Q 3 EQ
Unrivalled Sound and Workflow
An equalizer is probably the tool you use most while mixing and mastering, so you need the best of the best! With FabFilter Pro-Q 3, you get the highest possible sound quality and a gorgeous, innovative interface with unrivalled ease of use.
Mixing and Mastering Features
Pro-Q 2 offers everything that a demanding engineer could wish for: top quality linear phase operation in addition to the zero latency and unique Natural Phase modes, Mid/Side processing, variable stereo placement of EQ bands, an intelligent solo feature, optional Auto Gain and a built-in, fully customizable spectrum analyzer.
Effortlessly Sculpt Your Sound
FabFilter Pro-Q 3 is designed to help you achieve your sound in the quickest way possible. Via the large interactive EQ display, you can create bands where you need them, enable dynamic EQ for any band, and select and edit multiple bands at once.
Unique features like Spectrum Grab, Full Screen mode and EQ Match will speed up your workflow even more. Try it yourself!
FabFilter Goodies
Of course, you also get all the usual FabFilter goodies: perfectly tuned knobs, interactive MIDI Learn, undo/redo and A/B switch, Smart Parameter Interpolation for smooth parameter transitions, an extensive help file with interactive help hints, sample-accurate automation, advanced optimization and much more!
Key features
Highest possible sound quality
Up to 24 EQ bands
NEW – Optional Dynamic EQ mode for all bands (Bell and Shelf shapes), using any slope setting and with perfect analog matching
IMPROVED – Gorgeous Retina interface with large interactive EQ display, multi-band selection and editing for maximum ease of use and efficiency
NEW – Ultra-steep 'Brickwall' slope setting for LP and HP filters
NEW – Full surround support (up to Dolby Atmos 7.1.2) with intelligent speaker selection
NEW – External spectrum visualization from any other Pro-Q 3 instance, including collision detection
NEW – Per-band mid/side or left/right processing, so you can EQ the mid, side, left or right signals separately
Operates in zero latency mode, linear phase mode with adjustable latency or the unique Natural Phase mode
NEW – Flat Tilt filter shape, a flat tilting correction curve over the whole audible frequency spectrum
IMPROVED – Spectrum Grab: just grab and adjust a peak in the real-time spectrum analyzer right away!
Different interface sizes and additional Full Screen mode
IMPROVED – Filter shapes: Bell, Notch, High/Low Shelf, High/Low Cut, Band Pass, Tilt Shelf, Flat Tilt
Universal filter slope support for all filter types, up to 96 dB/oct
IMPROVED – EQ Match feature to automatically match the spectrum of another Pro-Q 3 instance or an external signal
IMPROVED – Built-in spectrum analyzer with Pre-EQ, Post-EQ and external spectrum visualization, adjustable range, speed, resolution, tilt, freeze and collision detection
Auto Gain and Gain Scale
Optional piano roll display to quantize EQ frequencies to musical notes
Different display ranges: 3 dB and 6 dB ranges for mastering, 12 dB and 30 dB for mixing
Intelligent solo mode makes it easy to find problem frequencies and hear the effect of a band
Phase Invert option to change polarity
Large output level meter with peak level readout
Extreme CPU optimization: Pro-Q 3 uses very little CPU and memory, so you can use hundreds of instances in a session
GPU-powered graphics acceleration
Double-click text entry of parameter values
IMPROVED – Supports stereo, mono and surround channel layouts (up to Dolby Atmos 7.1.2)
Supports common Pro Tools hardware control surfaces
IMPROVED – MIDI Learn with option to control the currently active band
Undo/redo and A/B comparison
Smart Parameter Interpolation
Sample-accurate automation of all parameters
Extensive help file with interactive help hints
Available in VST, VST3, Audio Units, AAX Native and AudioSuite formats (all both 64-bit and 32-bit)
System Requirements
Windows
64-bit: Windows 10, 8, 7 or Vista
32-bit: Windows 10, 8, 7, Vista or XP
VST 2/3 host or Pro Tools
macOS:
OS X 10.8 or higher (64-bit only)
AU or VST 2/3 host or Pro Tools
Intel processor
You can buy FabFilter Pro-Q 3 here for $178.26.
Best Compressor VST's
26. SphereComp
W. A. Production has created the perfect way to approach and achieve proper compression. All producers know compression can either be an award-winning tool if used properly, or it can totally destroy your mix. Audio students are introduced to compression and most are left confused or scared to death of it. SphereComp is capable of catering to the seasoned pro and the beginner.
To get the same results you get with SphereComp you would have to spend thousands of dollars in high end rack gear, invest time getting acquainted, making adjustments over and over until you get the result you want. Not to mention installation and routing your patch bay. Breathe a sigh of relief. Don't dread compression. Embrace it.
What is dual – mode?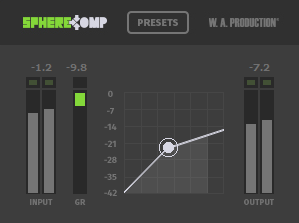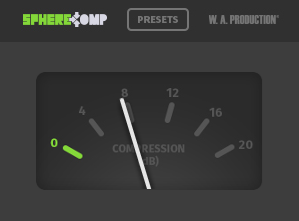 Dual-mode allows YOU to switch from peak compression (regular mode) to RMS compression (buss mode).
If you route your drum tracks (or any other group of tracks) into a group track, you are able to compress this group as a whole. Tying or "gluing" the individual elements to perform as one. The Buss mode is designed especially for that, It reacts to the RMS (root mean square) or the average of the signal, creating a smooth and musical compression. Regular mode reacts to the peaks of the signal, with it, you are able to dynamically shape the individual tracks. Keep in mind that some individual tracks will benefit much more from RMS compression and some groups or mixes will benefit more from peak compression, so experiment and see what works best for your track.
FEATURES

Input – Control the input gain by +/- 15dB.
Threshold – Threshold (dB), when the signal level exceeds the threshold the compressor goes into action.
Ratio – (ratio/1) As an example, a 3:1 ratio means that for every 3dB the input signal exceeds the threshold, only 1dB will be allowed to pass by the compressor.
Output – Control the output gain by +/- 15dB.


Now that you have your set your levels as a basic start, lets adjust the timing and behavior. When you're done, you can come back and fine tune everything to make your track seat perfectly in the mix.
Buss – Switch between Regular mode (peak compression) and Buss mode (RMS compression).
Attack – Time in milliseconds that it will take for the compressor to reach its destination gain reduction, after the signal has crossed the threshold.
Release – Time in milliseconds that it will take for the compressor to reach 0 gain reduction after the signal returned below the threshold.
Auto Gain – Auto Gain matches the output volume to input volume automatically.

Stereo – Switch between stereo and mono modes.
Punch – Parallel processing to add punch to the signal before the compression stage.
Saturate – Add tube style saturation to the compressed signal.
Clean – Make the compressor sound as clean as possible. If Punch or Saturate are on, it will reduce their effect giving you different timbre options.

Side Chain – Signal from the right channel input goes to the detector and the signal from the left channel input goes to the compressor.
Soft Clipping – Use to round the signal when it approaches 0.0dB and ensures it does not exceed it.
Bypass – Allows you to engage and disengage the compressor.
Dry/Wet – Mixes between the processed signal and the input signal creating a parallel compression effect, which leaves the peaks untouched while boosting the lower part of the signal.
To help you out there are also 45 presets that focus on individual instruments and drum sounds as well as groups, mix buss and mastering presets.
This is yet another way W.A. Production has made it easy for you to learn as you go. See what the pro's do and make your own modifications. And as if that wasn't enough to get you excited and ready to master compression, you will find pro tips and tricks inside the manual. That's right, we weren't going to just leave ya hanging to figure it out for yourself. There is a manual to assist you with getting started and getting the most out of Sphere Comp.
Be done with complicated compressors from creators who spent more time on the graphics than the functionality of the plug in. W.A. Production are real producers making real plug ins. We know how it is, and we make it how it should be.
New Features in version 1.5.0 (June 11th 2020):
Protection scheme included / License key request
Saturation algorithm updated
Enhanced colors
Improved performance
Improved stability
Improved memory management
Bug fixes
Only 64-bit support Mac & PC
You can buy SphereComp for $59.90 here.
27. ComBear
ComBear is an EXTREMELY powerful and incredibly dynamic Parallel Compression effect plugin that brings an amazing sound and feel to Drums, Synth, Vocals and anything else you can thank of! This plugin is going to change the game and sound the EDM Industry.
ComBear is packed full with incredible features like; Compress, Mix, Input Gain, Make-Up Gain and Bypass. By adjusting the Compress knob, you increase the Parallel Compression that ComBear adds the the element from value 0 to 100, Bypass ComBear's effects on an element by flipping the Bypass switch, correct the Make-Up Gain that is altered based on how much Compress you add the the element by adjusting the Make-Up Gain, adjust how much gain comes in from the element by adjusting the Input Gain and finally adjust how much of ComBear you hear on the element with the Mix knob. The Idea behind this plugin was of course Parallel Compression.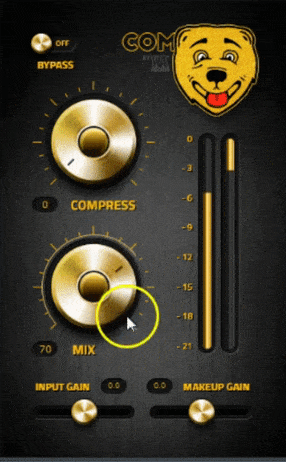 The main way ComBear can be used is add the plugin to a certain element then have the ability to compress that element pretty hard, and then mix this harshly compressed element with a duplicate of the element that is not compressed. This tactic brings a bold, delightful and intense sound to any and all elements of the production. ComBear is a must have tool in the production world, and is something any and all producers should look into investing in.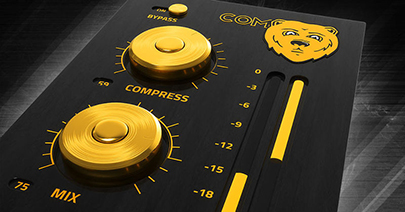 What is Parallel Compression?
In the simplest way, Parallel Compression, also called New York Compression, is a very dynamic range compression technique that is used in sound recording and mixing. Basically, Parallel Compression is a big form of upward compression and is achieved by mixing an unprocessed "dry", or lightly compressed signal with a heavily compressed version of the same signal. The Compress knob is what will add the Parallel Compression to the element from the value 0 to 100.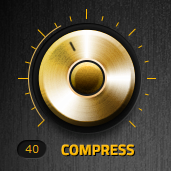 Make-Up Gain
Make-Up Gain as a whole is a make up for the gain reduction due to compression. Making sure to adjust the Make-Up Gain will bring the fullness of the compression to the sound. Do be careful not to over use the Make-Up Gain, as you can cause the plugin and the element to clip. Make-Up Gain is an amazing and useful tool inside of ComBear that we know will bring the effected element more power.

Input Gain
Input Gain is a setting that usually allows users to control the gain coming from the original element. Adjusting the Input Gain in ComBear will increase or decrease the amount of gain that comes from the original element into ComBear. If you decrease the amount of gain, then you may need to compensate this with the Make-Up Gain.

Mix
On most if not all plugins in the world, the Mix knob is a very basic feature that allows the user to judge exactly how much of the effect they want to actually be heard. ComBear's Mix knob does the same thing, but you can also automate it to add some dynamics to the track, like bringing the effected element into the track slowly to bring in intensity.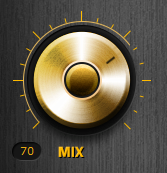 ComBear is a plugin that will change the EDM scene forever. If you want to jump to the top of the game, you need to get your hands on this beast. Be like the professionals and make your tracks sound top tier! W. A. Production has strived to make some of the industry's highest quality sample packs as well as some of the most amazing and hard-hitting plugins. We believe that ComBear is a game-changer and can not WAIT for all of you to get your eager hands on this beast!
You can download Combear for FREE here.
28. Puncher
Puncher is a Multi-FX plug-in that will add instant power and punch to your tracks.
In terms of compression, this is the all in one tool you've been dreaming of. Packed into its compact design you will find 3 different effects. A Transient Shaper, Multiband Compressor and Parallel Compressor. It allows you to combine the power of these 3 amazing tools to create a brand new, unique and powerful sound. Puncher not only allows you to to control the amount of the applied effect, it also allows you to control the effect itself. Offering advanced options for each effect you can fine tune every aspect as much as you like. Inside Puncher you will also find 48 configured presets made for various genres and instruments.
Puncher is designed to give you absolute tonal control of transient energy so that you can customize and shape those sounds.
Rather than have 3 separate units, Puncher has the 3 elements you need to give your mix that clear extra punch, all in one compact plugin.
Transient Shaper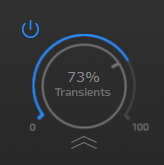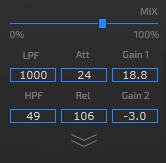 The 'Transients' section lets you shape the transients and sustain of your tracks. The main mix control lets you set the intensity of the effect, while the advanced settings give you control over the stereo linking, bandwidth and envelope length of the detection signal, as well as the maximum boost overage or cut that you want to apply to your signal's transients or sustain.
Multiband Compressor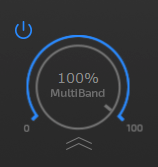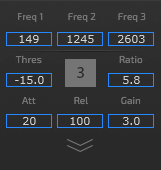 The 'Multiband' section divides your track into 4 bands with subtractive IIR filters, creating a real-time linear phase Multiband split. Every band has its own compressor that applies logarithmic attack and release directly to the required gain reduction value, instead of to the detection signal, smoothing out the compression effect in an analog fashion.
Parallel Compressor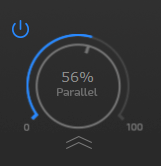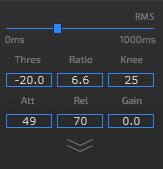 The Parallel section lets you apply smooth parallel compression to even out the dynamics in your track in a very natural way, or create a powerful compression effect. You can also reduce the dynamic range without reduction to the peak level. The compressor has a continuous RMS time control and a knee width control that will let you fine tune the compressor's sensitivity to react aggressive and digital, or silky and analog. By adding a parallel compressor to work with the Multiband band compressor this increases the effective compression ratio and makes the processing more obvious and effective.

In addition to expanding transient peaks, Puncher allows you to shape the frequency response of the transient as well as the sustain signal. Innovations in technology bring new possibilities to customize the sound, plus a new ease of use to achieve the same sought-after results once only achieved by bulky, expensive and complex hardware. Designed with an easily understood and operational interface, Puncher is a compact Multi FX plugin capable of delivering pin drop clarity as well as the hardest, most intense punch to your mix.
Features
Attack and release transient shaping
Real-time linear phase Multiband compression
Variable RMS parallel compression
Build in preset manager
Before/after dynamics wave display
Smoothed out bypass controls
Presets Include
9 Instrument Presets (guitar,brass,string,piano)
8 Drum Presets (deep house,dub,rock,trap)
8 Bass Synth Presets
6 Synth Lead Presets
10 Synth Presets by Genre (ambient, hip-hop, future bass)
5 vocal presets
SYSTEM REQUIREMENTS:
Windows 7 or higher (32 / 64 bit)
Mac OSX 10.5 or higher (32 / 64 bit)
VST, VST3 and AU versions available (No AAX version)
You can buy Puncher here for $69 here.
29. Pumper 3
We've done it again… after the release of "Pumper" we wanted to step up our game and give you even more control over the punch and power of your sounds. The sequel, Pumper 3, has been long in development as our team toiled away to retain the stellar performance parameters of the original plugin whilst adding new features. The end result is a multi-effect powerhouse that achieves the level of immediacy, body and depth that our fans expect and their tracks deserve.
This is our most requested update ever and builds on the Compressor, Saturator and Stereo Imager modules of the original whilst adding more controls to fine tune the processing.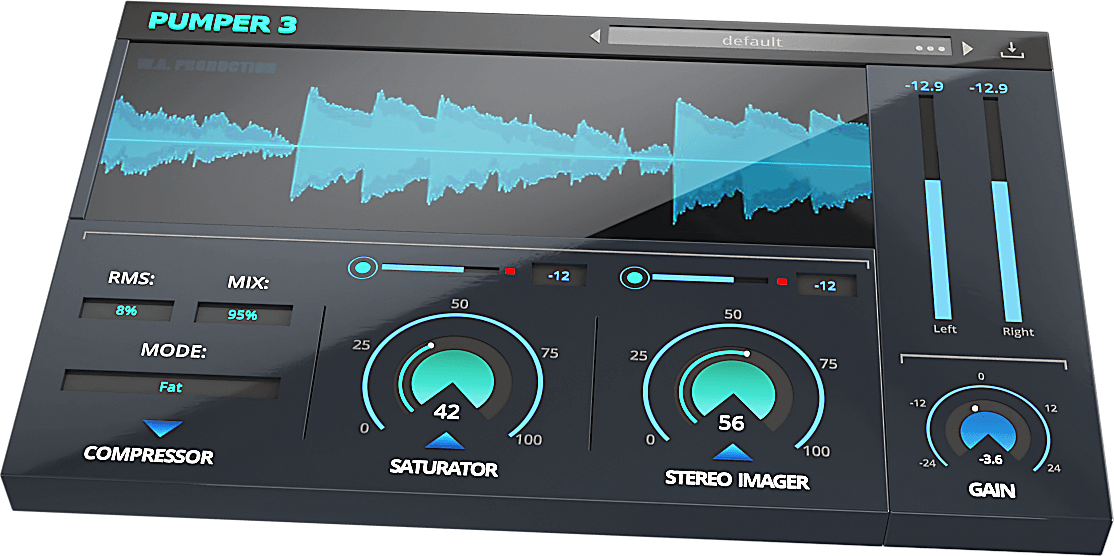 Compressor
The compression module has 4 flexible modes:
Punchy Mode gives you that direct punch and clarity. This is great for kick drums or percussion.
Fat will help to bring out the bottom end of your audio and make it sound big.
Clean is more transparent and perfect for adding cohesion. Great for softer vocals or acoustic instruments.
Soft is wonderful to use on your master channel. Subtle compression makes everything sound tighter, increasing clarity without sucking the life out of your mix.
New compression parameters for Pumper 3 include adjustable wet / dry parallel compression and RMS shaping controls, ideal for perfecting your sound in the box, without resorting to complex channel audio routing.
Saturator
Add warmth and depth with subtle saturation settings, or push the dial up high for pronounced distortion with a harder edge.
The new Rise and Fall settings allow you to shape transients and smooth out the character of the saturation, both essential controls for fine-tuning the performance of any audio.
Stereo Imager
Bring your tracks to life with the Stereo Image control, adding beautifully clear width and depth. Unique to Pumper 3, the dedicated Low and High shelf modes, alongside frequency and resonance controls, allow you to focus the width processing to specific frequency ranges. Use these settings to emphasise the unique characteristics of a sound.
All in one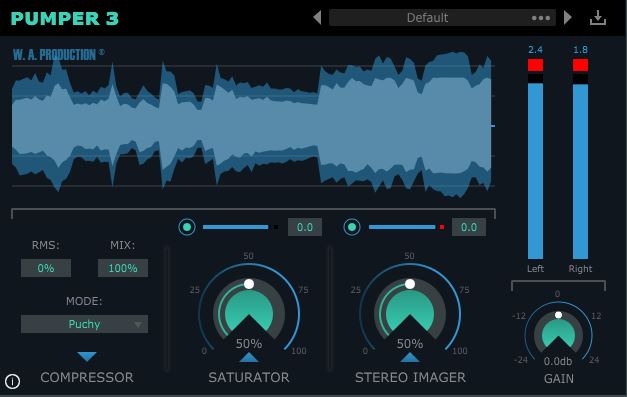 Using these 3 modules simultaneously within one plugin is quick, easy and inspiring.
Each module has a dedicated input control for balancing the effects and the real-time waveform window shows a visual representation of your audio, both before and after processing. Essential for accurate A/Bing to check the results of Pumper 3's processing power.
50 factory presets are designed to get you up and running quickly, with tailored settings for drums, vocals, bass, keys, synths, acoustic instruments and mastering. These are all easily accessible from the plugin menu and of course, you can save you own settings as user presets too.
Pumper 3 is a big leap above and beyond the first version. If you've used and enjoyed the original Pumper in the past, this is a perfect upgrade with expanded features and more nuanced controls. If you're new to this kind of processing, then Pumper 3 is a great starting point, with interface controls as simple or complex as you want it to be. We've been using Pumper 3 to beef up our kicks, expand synth lines and widen guitars. It's your one-stop-shop for creating tracks that will engage and excite your listeners.
W. A. Production are real-life producers making creative plugins to help you achieve studio quality processing quickly and easily. Enjoy!
Features:
50 Creative Presets for drums, vocals, synth, bass, acoustic, keys and mastering
4 Compression types with adjustable RMS
One-click parallel compression
Hard & soft clip saturation with transient and character controls
Stereo Imager with frequency focus
Per-module and master gain controls
Real-time waveform display
Full PDF Manual & Tutorial video
New Features in version 3.0.0:
Updated GUI (Wave graph)
Catalina compatible
Pro Tools / AAX compatible
Minor Bug Fixes
System Requirements:
Windows 7 or higher (32 / 64 bit)
Mac OSX 10.7 or higher (32 / 64 bit)
AAX – ProTools 11 or higher
You can buy Pumper 3 for $39 here.
30. Vocal Compressor
Capturing that perfect vocal take is difficult, but knowing how to process vocals can be even trickier. The first step in the chain is often compression, but with so many different types of compressors to choose from which is the perfect solution for your vocals? We've created Vocal Compressor to solve that problem, featuring a compression chain that's transparent, balanced and adds subtle flavour, colour and grit to make vocals sit perfectly in a mix.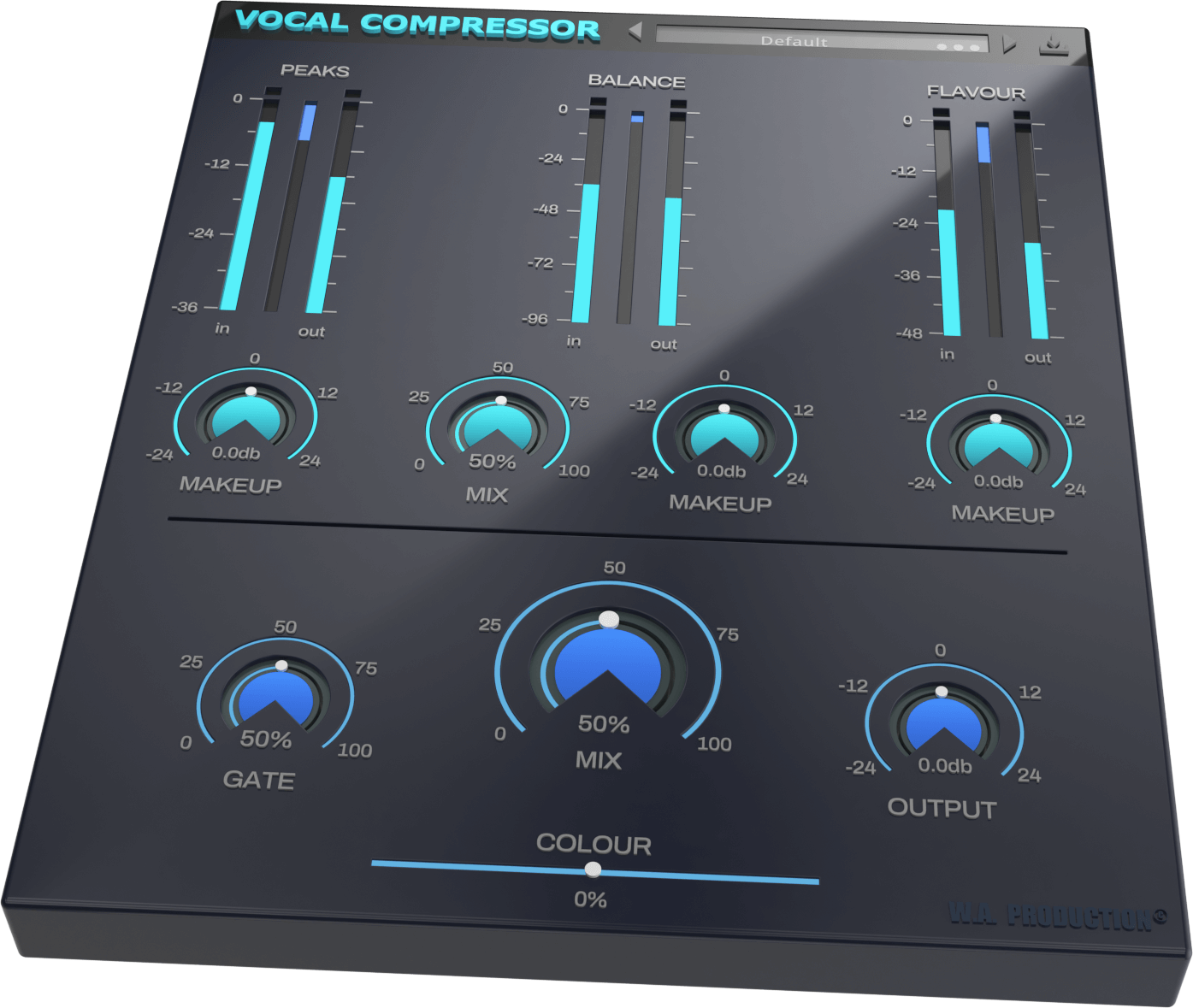 The 3-stage compression passes your audio through 3 distinct types of compressors to tame troublesome peaks, balance dynamics and add flavourful saturation. Throw in gating & colour controls alongside options for parallel compression and you've got an all-in-one compression tool that suits vocals perfectly but will also work well on synths, bass, leads and other audio.
Peaks
The first step in the signal chain; the Peaks compressor removes amplitude spikes from the signal to make it sound smoother. It aggressively clamps down on the rogue dynamics of your vocal, preparing the signal for the next stage. You'll only need to push down the threshold by a few dB to hear the effect in action and at it's transparent best.
Balance
This is a parallel compressor that leaves loud transients intact whilst making the softer parts of your audio louder. This results in a reduction of overall dynamic range to make the vocal sit better in the mix. Use the Mix and Makeup dials to set the balance between the lightly compressed Peaks output and the heavily compressed Balance processing of the same signal. Don't hold back on the gain reduction as this compressor needs a threshold of around 20dB to work. Keep pushing that threshold down until things sound good.
Flavour
This compressor has an integrated tape saturation curve to add harmonics, grit and flavour to the audio. Start subtly and then adjust the threshold until you can hear the bite of your vocal, so it clearly rides over the top of your track.
Gate & Colour
Remove unwanted and distracting pops, clicks and noise with the Gate dial. With the Colour slider, dial in a frequency curve that's specifically tailored to vocal processing, making your vocal performance sound as professional as possible.
Bypass, Output & Master Mix
The bypass control is smoothed to be as click and pop free as possible for unhindered A/B testing when combined with the Output dial. Choose to mix the compressed signal with your original raw audio via the central Master Mix ratio control, allowing you to dial down the compression ratio for parallel effects.
Visual Feedback
The live visuals of the interface meters show exactly what's happening to the signal as it travels through each compressor in real time. This allows for accurate monitoring at every step of the chain.
Presets
With many included presets, it's easy to find the perfect starting point for your own compression adventures. Categorised into distinct themes, these presets can be used on all sorts of audio, not just vocals. They include everything from subtle shaping to more full-on saturated compression effects.
W. A. Production are real-life producers making creative plugins to help you achieve studio quality processing quickly and easily. Enjoy!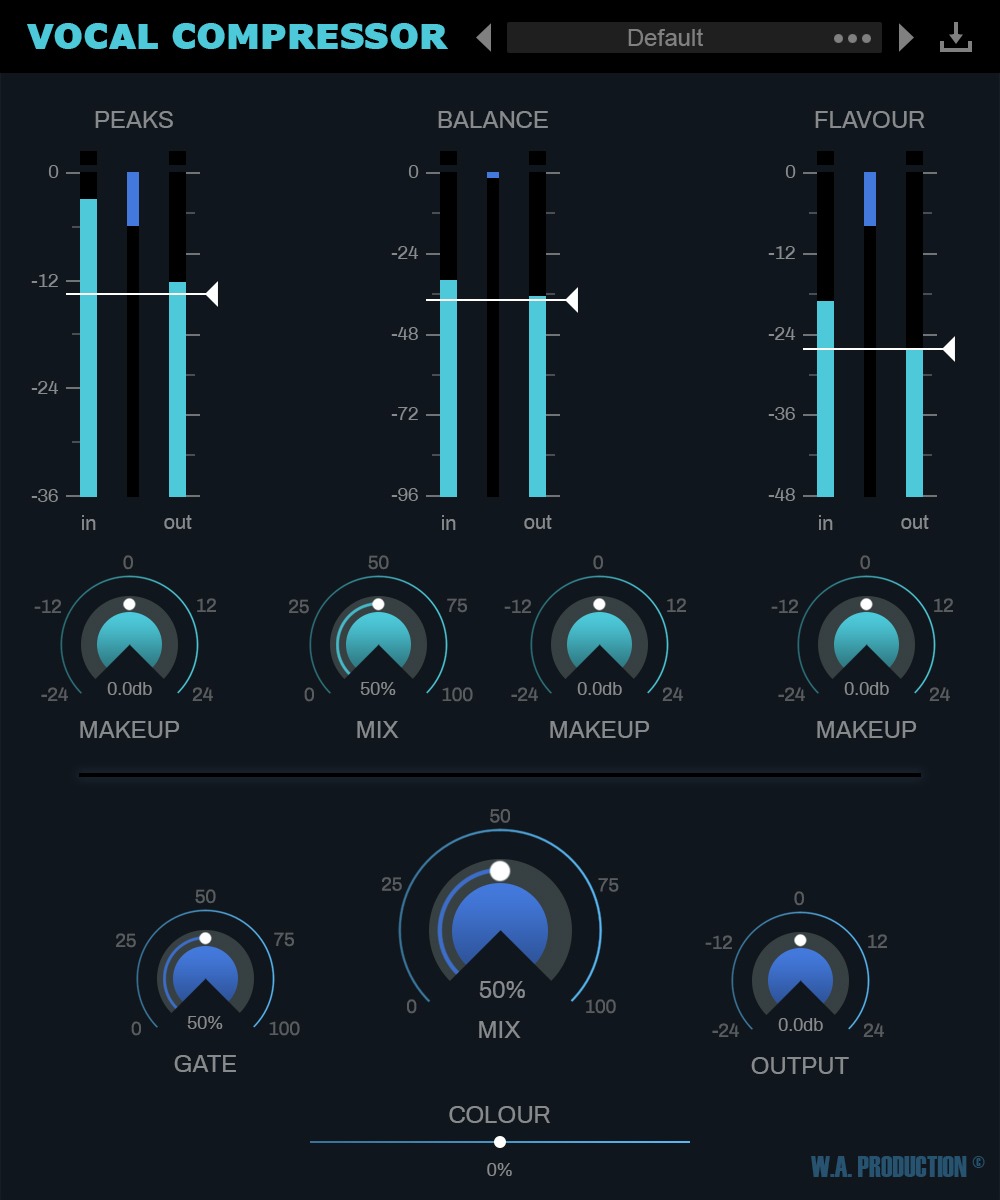 Features:
Easy to use compression designed especially for vocals
3 compression stages
Peaks, Balance and Flavour
Noise Gate ratio
Frequency shaping via Colour slider
Pop & click free bypass
Responsive & CPU friendly
Factory presets
Full PDF Manual & Tutorial video
System Requirements:
Windows 7 or higher (32 / 64 bit)
Mac OSX 10.7 or higher (32 / 64 bit)
AAX – ProTools 11 or higher
You can buy Vocal Compressor here for $39.90.
Best Free VST Plugins